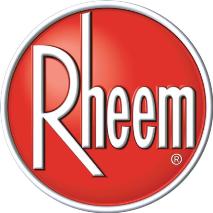 Utah Rheem Water Heater Dealer
At Water Heaters Utah, we're experts at replacing and repairing Rheem water heaters.  Due to our many years of experience, qualified workers and excellent customer service skills, we can help you find the right heater to fit your family or business needs, quickly and efficiently. 
Rheem Products:
Residential:
Gas
Electric
Tankless
Solar
Commercial:
Gas
Electric
Storage tanks
What size is best for you? We carry tanks in the following sizes: 
38 gallon
40 gallon
50 gallon
60 gallon
75 gallon
98 gallon
84 gallon
100 gallon
200 gallon
What's the warranty?
Depending on the model chosen you could receive the following:
6, 8 and 10-year limited tank and parts warranties for residential water heaters
3 and 5-year limited tank and parts warranties for their commercial water heaters