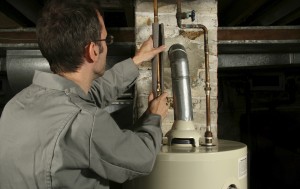 We're the #1 water heater repair company in Utah
Are you having issues with your current water heater? If so, there's absolutely no need to stress! At Water Heaters Utah, we've been repairing water heaters for too many years to count, and our extensive experience ensures that we can get the job done quickly and efficiently.  
Call For An Estimate: 801-221-0024
How do you know if your water heater is in need of repair? Check out some of the top 7 symptoms below:
Signs your water heater is in need of repair:
You're experiencing inconsistent hot water or no hot water
Hot water spikes are on the rise
The water is a rusty color
The water heater or water smells like rotting eggs
You can hear low rumbling or popping noises
You can hear a high pitched whining
Water is leaking around base of the water heater
We Can Repair all Water Heater Types and Brands 
We have a wide range of know-how when it comes to dealing with water heater repairs for all types, including solar, tankless, tank, gas and electric, and we're Utah's #1 choice when it comes to water heater repairs.
Call us today for a free estimate! 801-221-0024